After two months of competitive fixtures this season, each team only has two or three weekends left before the winter shutdown, which makes points all the more valuable. Last weekend was highly successful from most Inverleith teams and it was encouraging to see such good levels of support from the sidelines, credit to those who took the time to brave the cold for 70mins.
This weekend however, we have FIVE fixtures, all of which are at HOME and all of which have their own pre-game build up.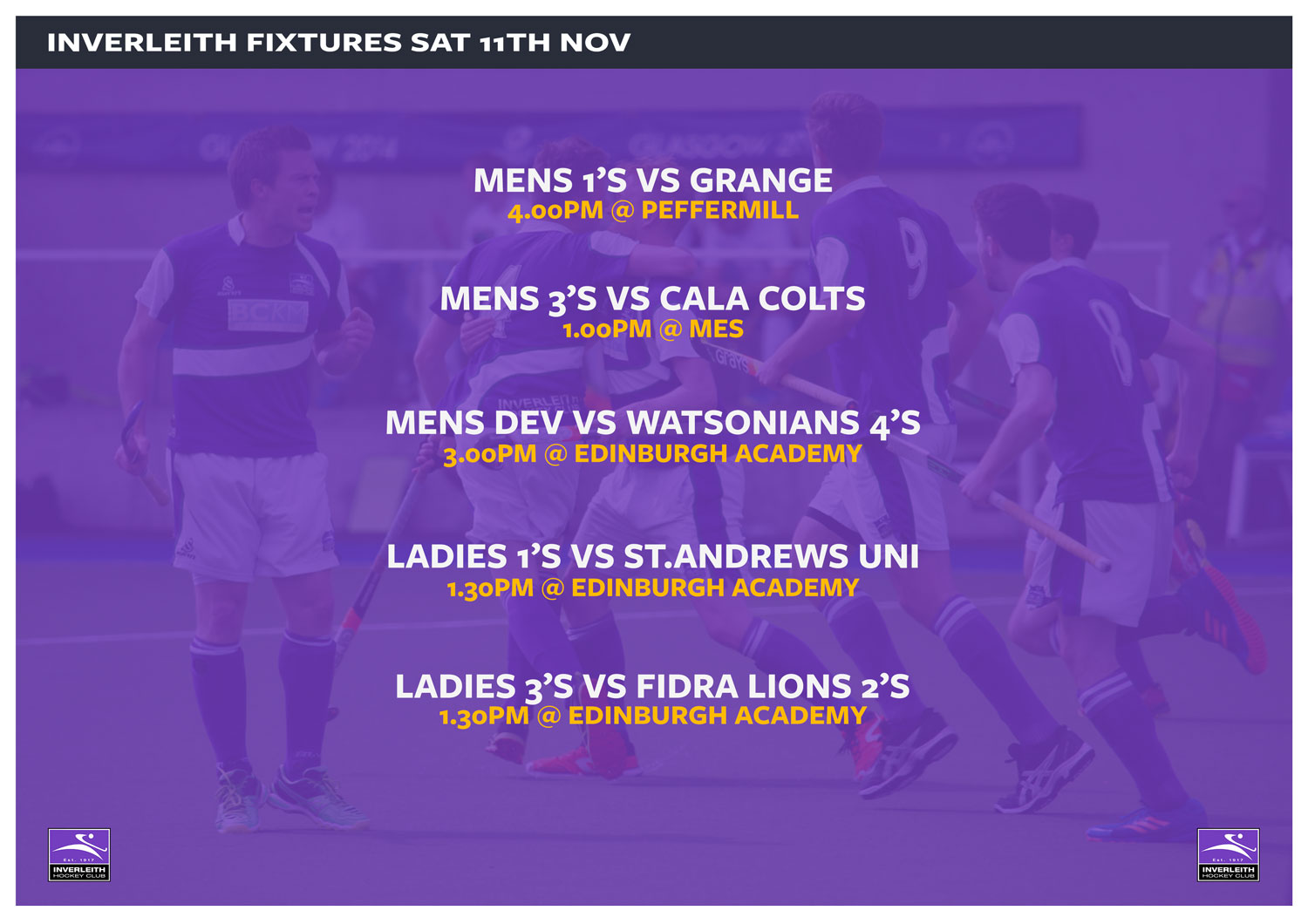 Although the Mens 1sts picked up their first point of the season, they came agonisingly close to clinching all 3 on Saturday against last seasons National 2 companions. It was a crucial game for both sides and after Inverleith went 2-0 up for the first time all season, noise levels and eyebrows were beginning to rise faster than any number of things – a Murray Fotheringham goal tally, the Nomads finishing their pints on the sidelines, or more importantly, the air temperature at Peffermill.
With 2 minutes remaining and a questionable umpiring decision to reverse a sideline ball later, Wanderers clinched an equaliser and left the home team still awaiting their first win of the season. When win's are required there is no better time to play an Edinburgh derby against historic rivals Grange, who are off the back of a surprising draw themselves against Uddingston. All eyes will be on Peffermill on Saturday to see which team, white or purple, will win the Pride of Edinburgh award!
When: 4pm, Peffermill.
This weekend the Men's 3s face CALA Colts who sit mid table after three consecutive victories. The similarity between both teams is that they have only been beaten once, and in each case by Edinburgh neighbours ESM 3s who shipped 4 goals past Inverleith last weekend. This has been the only blip in an untarnished season for the 3s so far, and with a long list of available players this weekend, captain Currie will be looking to select a strong 3s team to return to winning ways again on Saturday.
Where: 1pm, MES
It's top vs bottom this weekend as Inverleith face Watsonians 4ths who have only conceded 3 goals so far this campaign. This will be a tough challenge for a very young (including you Steve) Inverleith team, who will be looking to put right their nauseating result against Linlithgow and West Lothian last weekend. Welcoming back captain Bowyer will help, but the Men's Development team should be prepared to apply Mouriniho tactics against stronger opposition and park a large Lothian bus outside the circle. Nail this, and anything is possible.
Where: 3pm, EA
In the absence of Coach Wall, the Ladies 1sts mustard a satisfying victory over Aberdeen University last weekend with two goals from defender turned forward Dinwoodie. With Alan back pulling the strings again, its another university side which will put the purple robes to the test. St.Andrews University, with just 1 win in 8 will travel to Edinburgh with a point to prove and a task of putting the high scoring Inverleith under a bit of pressure. With 18 goals between them McKay and Campbell will hope this pressure doesn't materialise and they can continue to climb their way up the table and into the top 3.
Where: 1.30pm, EA
A fantastic 3-2 defeat of Falkirk & Linlithgow last weekend, leaves the Ladies 3s mid-table wth 7 points, and an opportunity to climb just outside the Top 4 with victory over Fidra on Saturday who only have 1 win in 5. With the goalscoring prowess of Itske Hooftman and Kirsty Livingston, the 3s are a force to be reckoned with and will fancy their chances against Fidra. Under the shrewd leadership of Liz Pettigrew these young group of girls have the potential to surprise oppositions, but it is the concentration for 70minutes which will be the deciding factor.
Where: 1.30pm, EA
Good luck to all five teams!!
After all FIVE games are completed, everyone over 18 Is welcome to come to The Golf Tavern from 7.30pm for a fun nights Karaoke and a bit of a Purple laugh & get together. Look forward to seeing you there.