As we enter the final month of outdoor matches in 2017, we have another SEVEN fixtures in store for us on Saturday. In the run up to this halfway point there are a number of teams which could do with a few more points on their respective tables, so let's get cracking with a review of what to expect: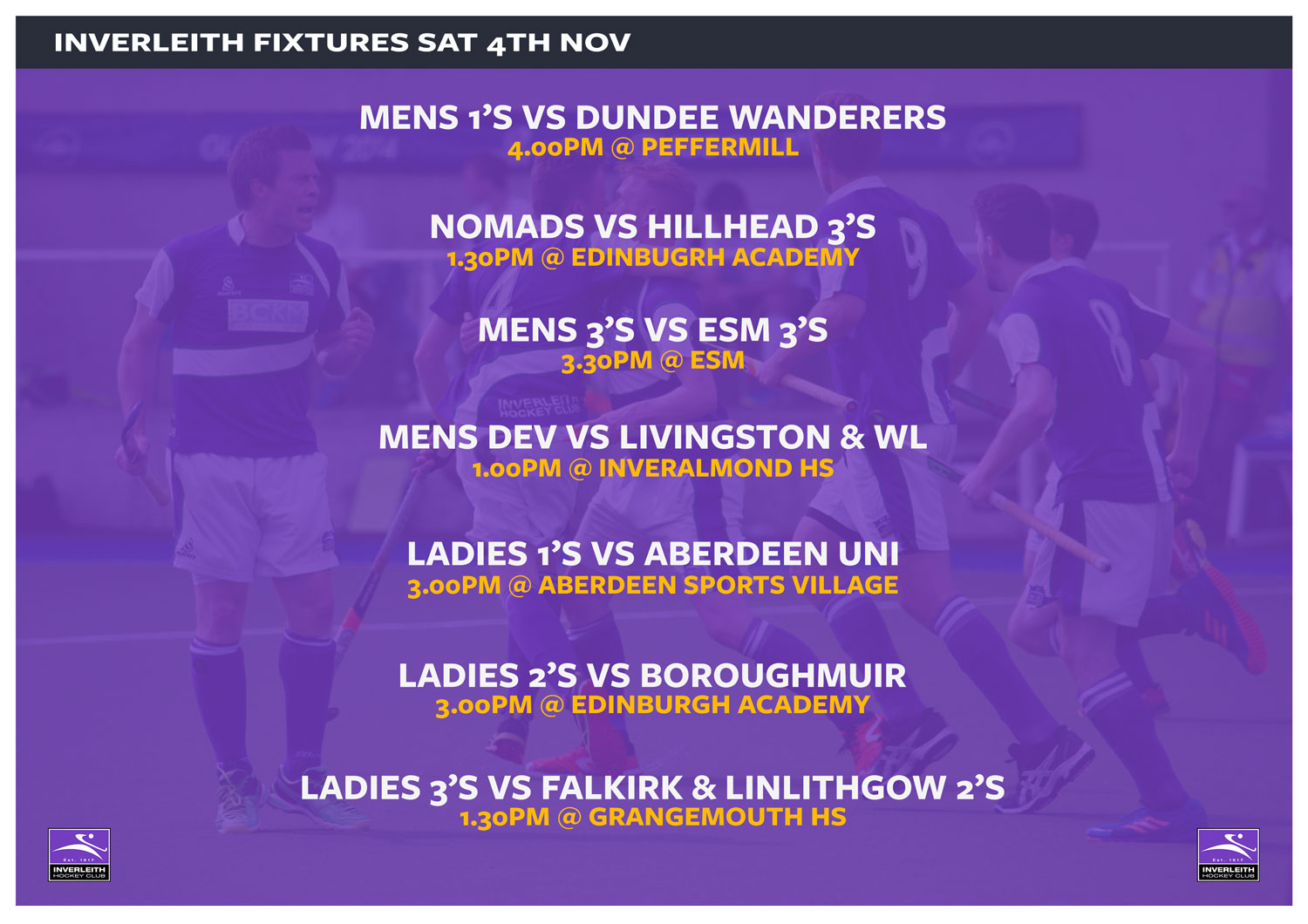 This weekend sees the two promoted teams from last years National 2 go head to head at Peffermill for three points which both teams will be desperate for. After going into half-time level at 1-1 in last weekends match with Hillhead, Inverleith were optimistic about claiming their first points of the season, but a strong second half from Hillhead left the Edinburgh side heading back down the M8 on the receiving end of a 4-1 defeat. Spirit and worth ethic still remains high as they fight to clinch their first points, although this weekends rivals Dundee Wanderers are just off the back of beating Uddingston, so another tough encounter is expected.
Where: 4pm, Peffermill
After an impressive 5-0 victory at the hands of Glasgow University last weekend, the Nomads face Hillhead 3's who sit just one point below them in 2nd spot. With captain Paul Taylor returning to continue his sides good run of form at the top of the table, its likely that this will be the showpiece match of the weekend. With goals coming from throughout the squad this season, this could be the goal fest which other matches may lack.
Where: 1.30pm, Edinburgh Academy
Another team sitting at the top of their table is the Men's 3s who face an ESM side with only 1 win and a draw to their name. There's rarely a better moment in a season than beating near neighbours Grange, but it was topped last weekend when two club stalwarts where responsible for claiming both goals and assists for one another in a 2-1 win. Hats off to Mr Blackie and Mr McDonagh. Spirits are high in the 3s right now, whether ESM can deter that positivity is another thing.
Where: 3.30pm, East Fettes Avenue (ESM Pitch)
After claiming their first point of the season in a positive 2 – 2 draw with Carnegie last week, the development team will be looking to quickly climb up the table with another point (or three) this weekend. Livingston & West Lothian are the opponents, but without skipper Paul Bowyer, the challenge rests with the remaining young guns to pull off the spectacular.
Where: 1.00pm, Inveralmond HS
Not for the first time this season, the Ladies 1sts are heading to Aberdeen for a tasty encounter against a team from the third oldest university in Scotland (and fifth in the UK) apparently. As we all know, age is just a number and so the Ladies 1sts will be hitting the road yet again with the expectation of returning with all three points – the only figure this weekend of any relevance.
Where: 3.00pm, Aberdeen Sports Village
The Ladies 2nds have struggled to get a run of games in their new Adidas kit, with only two league fixtures this season, however Boroughmuir offers an excellent opportunity against local Edinburgh rivals to race up that leaderboard and make other teams take notice. Rome wasn't built in a day and neither was this squad who have largely played together for two or three seasons already. With only 5 goals in six games, Boroughmuir is a team which will struggle to cope with Inverleith's onslaught of attacking threat.
Where: 3.00pm, Edinburgh Academy
A narrow defeat at the hands of ESM last weekend will not deter spirits within the Ladies 3s ranks. A victory against Falkirk & Linlithgow could take them to just outside the top 4 in a very competitive Division 2. The opposition are yet to win a game which should raise optimism throughout the squad with goals continuing to come thick and fast from lots of individuals throughout the squad.
Where: 1.30pm, Grangemouth HS
Good luck to all seven teams!!