This weekend for the first time in a while, all SEVEN Inverleith teams are in action. Also, with four HOME GAMES taking place tomorrow afternoon at Edinburgh Academy a BBQ will be available for players and supporters, in what will be a good atmosphere. Dont miss out!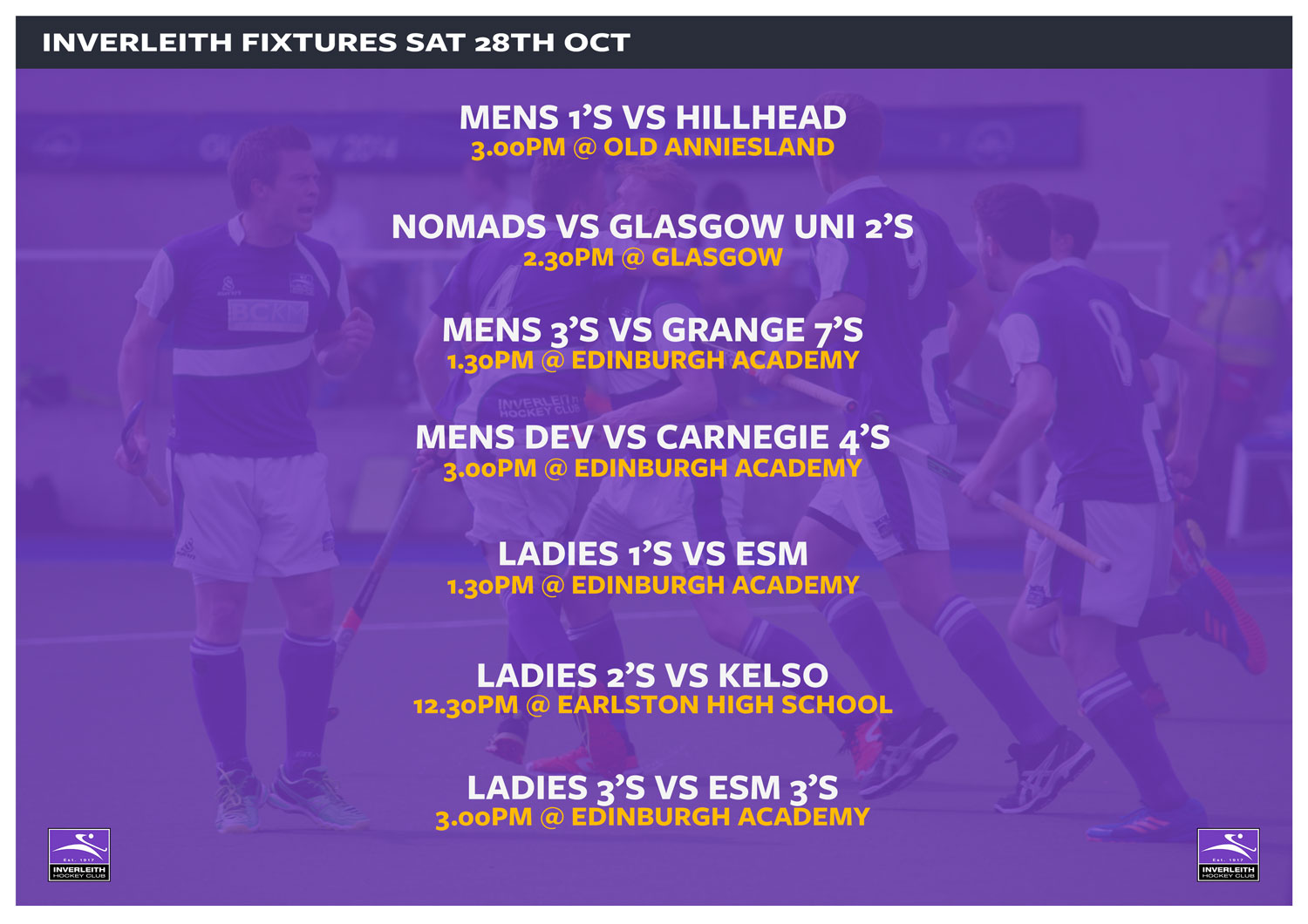 Mens 1sts face Hillhead in Glasgow, who picked up their first 3 points of the season last weekend. Our Mens 1sts are still looking for their first points and hoping a strong performance this weekend can deliver just that!
Player to watch: Magnus Ferrier
Nomads also travel to Glasgow to face a Glasgow University side who only sit one place below Inverleith in 3rd. Uni have scored 21 goals in four matches, so the Nomads defence will need to be rigid to deny a potentially threatening Uni forward line. This game could have a big impact on the Nomads push for promotion.
Player to watch: Craig Philip
The Thressians (Mens 3s) face a Grange side which will undoubtably be mixed plenty of youth and experience. However, the Mens 3s have collected some impressive results this season, leaving them undefeated so far in this 2017/2018 campaign. Grange sit second with 7pts whilst the Threesians lie undefeated in top spot with 12pts. In the absence of captain Currie, the team will be looking to other senior members to step up. Everyone knows there's no bigger game than an Edinburgh derby, so this match will not disappoint.
Player to watch: Calum Clarkson
Men's Development team face Carnegie 4ths. The Development team are yet to pick up their first points this campaign, but could Carnegie be the opposition they can pinch some from. With talisman and club President Bowyer in the mix, anything is possible.
Player to watch: Louis Beardmore
Ladies 1sts host ESM who will travel an approximate distance of 150 yards down the East Fettes Avenue Road. Having being relegated last season ESM are now current favourites for promotion and sit top of the table, so the Ladies 1sts will certainly face a tough encounter against their local rivals.
Player to watch: Christina Farrar
Ladies 2nds have had very few fixtures this season, but face a Kelso side who have only claimed 3 points from a possible 15. The Ladies 2nds are a young team, but with captain Mags Duncan keeping things ticking in centre midfield, opportunities usually arrive in abundance for a highly enthusiastic team.
Player to watch: Sarah Watters
Ladies 3rds also face ESM and with star striker Kirsty Livingstone knocking in goals like an uninjured Harry Kane, there is plenty of optimism that three points could be on the cards. Each game this season has been tightly contested and although they have lost three from four, each result has only been a mere 1 or 2 goal difference.
Player to watch: Kirsty Livingstone
Good luck to all seven teams!!