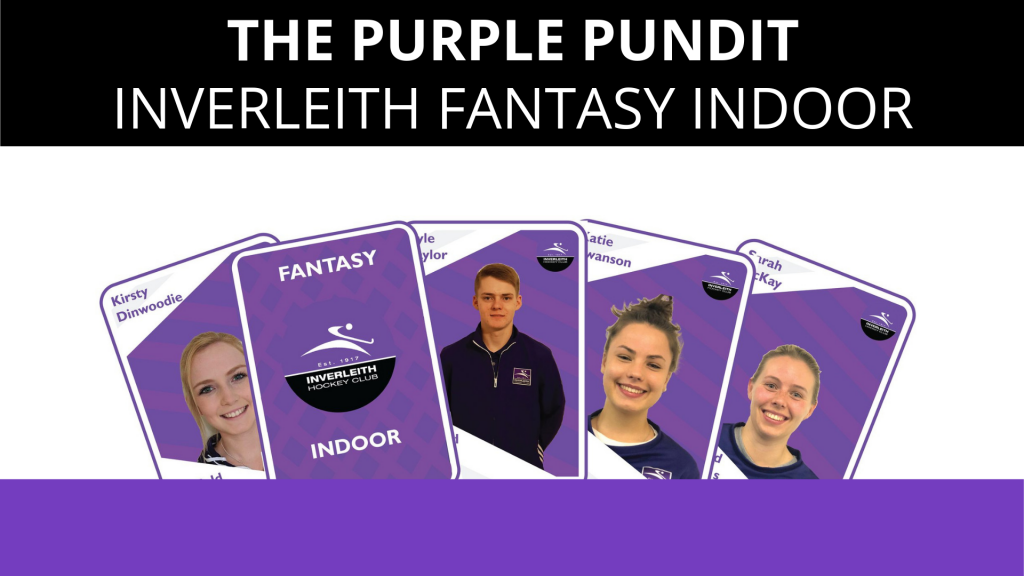 Welcome to the Purple Pundit, our review of each game week and what it means for your Inverleith Fantasy Indoor team!
It was another successful week of the indoor for Purple with every team except the Men's 2s winning all their fixtures!
Goal of the week:
After a sweeping attack, by the Ladies 1s, up the right board the ball broke to the top of the D. Carly Bisset stepped up and first timed a reverse flick in off the cross bar to rapturous applause from the galleries. As described by Ladies 1s Head Coach Alan Wall.
Scores on the doors:
Inverleith M1s – 2-1 Win vs Grange, 8-3 Win vs Clydesdale, 16-0 Win vs Kelburne
Inverleith L1s – 5-0 Win vs Kelburne 1s, 9-2 Win vs Granite City 1s
Inverleith M2s – 4-3 Loss vs Aberdeen Grammar 1s, 5-4 Loss vs Dundee Wanderers 2s
Inverleith L2s – 5-3 Win vs Uddingston 1s, 4-3 Win vs Watsonians 2s, 10-1 Win vs ESM.
Who were the players of the week?
Bargain Basement:
This week we look at players under £6M, highlighting players we feel show the best value for money in the game. Will you add these Purple heroes to your squad before week 3?!
Helen Montgomery – Playing behind a very successful Ladies 2nd XI who have won 6/6 so far, Helen is very reasonable £4.4M and has already gained 1 Man of the Match award so far this season – will she be keeping a clean sheet for your Fantasy team this weekend?
Jennifer Veitch – For the second week running Jennifer has been in the Pundit's spotlight, Jennifer has scored well both weeks scoring 3 and assisting 3 along the way – should she be on your team this weekend?
Alan Wall – Hasn't been seen on an indoor court yet this season, yet has a deadly flick off of left slip. Will you take the gamble on Wall on his first week back?
James Stuart – James unfortunately missed last weekend but is keen to make up for lost time with a barrage of goals, word on the grapevine is he's even been practicing his celebrations in anticipation… If you want goals – he's your man.
David Ogden – David scored very well last weekend with 1 goal, 3 assists and a man of the match award – at only £5M surely he's worth a place on your team?
Rosina Barton – Another player to be highlighted by the Purple Pundit for the second week in a row, she handled the step up from 2's to 1's without an issue with another two goals – can she make it another successful week in week 3?
Inverleith Fantasy Hockey | The Standings: