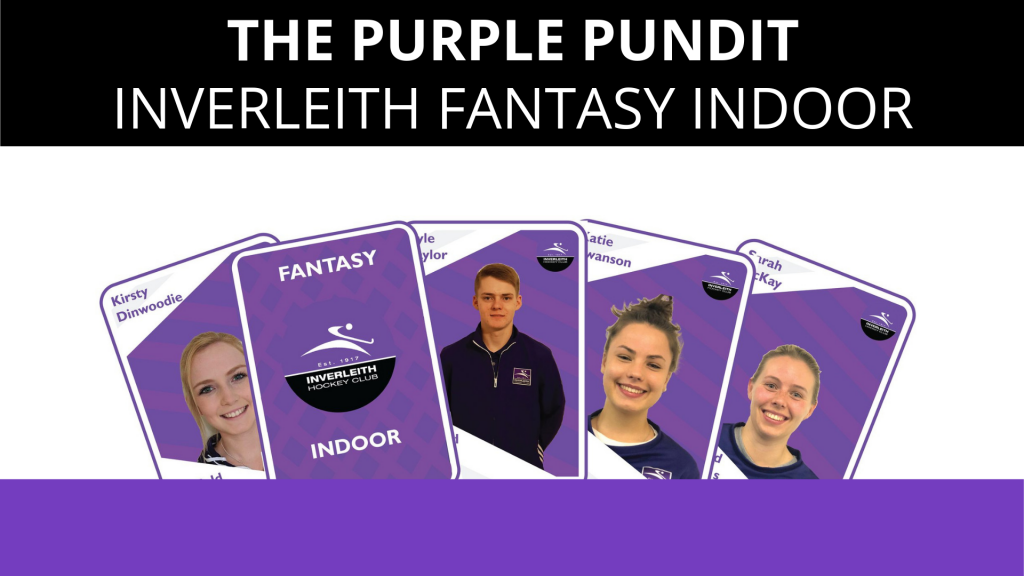 Welcome to the Purple Pundit, our review of each game week and what it means for your Inverleith Fantasy Indoor team!
It was a very successful first week of the indoor season for Purple, with both the Men's 2's and Ladies 2's coming away with maximum points!
Scores on the doors:
Inverleith M2s – 4-0 Win vs Menzieshill 3s, 4-3 Win vs Stepps 1s
Inverleith L2s – 12-2 Win vs ESM, 10-0 Win vs Perthshire. 6-4 Win vs Stirling Wanderers
Who were the players of the week?
Ones to watch for week 2:
Goalkeeper:
Cameron Bosi – This lad was targeted in the Purple Press last week as one to watch and boy did he deliver, producing a clean sheet in one game and being named man of the match in both of his matches. A must have this weekend!
Defenders:
Ewen Mackie – The highest scoring defender from last year is back in action this weekend with 3 games for the 1st XI – he has been looking razor sharp in training, should he be in your team?
Jennifer Veitch – After a high flying first weekend scoring 3 goals along with 3 assists, Jennifer looks a bargain at only 4.3M.
Midfielders:
Stevie Dick – A very high price tag, but going on last year's form he seems to be worth every penny as he was in the top 3 points scorers after missing half the season through injury.
Alex Wilson – This young man has just collected the Scotland Under 16's player of the year award and scored well in week 1 after only playing 1 game. Get him in?
Forwards:
Chloe Richardson – Scoring a whopping 54 points in week 1, Chloe has shown she is dangerous in the D with an incredible 13 goals in 3 games! Surely a transfer target for your team?
Rosina Barton – Her team name states she is the 'Better Barton' and Rosina definitely showed this in week 1, outscoring her brother Thomas by a massive 34 points to 10 – definitely one to watch this weekend.
Inverleith Fantasy Hockey | The Standings: