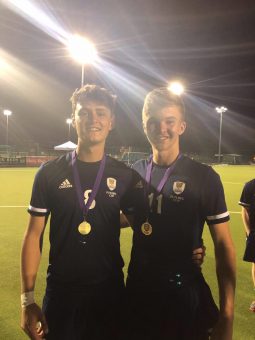 Inverleith was well represented at the recent Futures Cup in St Albans in which Scottish teams enjoyed some excellent results.
The event is designed for the best young male and female players at U15 and U17 level and serves as a showcase for the England Hockey selectors to identify players for next year's English U16 and U18 squads. As a result the standard of competition is high and with each match keenly contested between districts across the UK Mainland – with teams known as Mercia Lynx, Wessex Leopards, Saxon Tigers, Celtic Jaguars. Pennine Pumas alongside our Caledonian Cougars. With a Welsh team now taking part it really does make for a prestigious event under tournament conditions and some hot weather for these young players. Giving many the chance to sample true tournament conditions, staying in Hertfordshire University on Campus over 3 gruelling days.
Undaunted by the opposition and the energy-sapping temperatures, Scottish teams recorded their best ever results.
The Boys U15 and U17 won gold, with the Girls U15 and U17 bringing home silver and bronze respectively.
As it was they won a tense shoot out against Mercia Lynx to take bronze.
With such a high standard, this was a very impressive showing by the Scots and caps an excellent summer of results for Scottish Hockey. On the final day of the tournament, the Scottish senior men lost to England in Antwerp to be relegated from EuroHockey Division A.
However, such is the talent coming through the Scottish U17 ranks, the future is in very good hands. In a tournament geared to identifying future English hockey talent, Purple players shone and this will stand them and the club in good stead for this season and beyond.
Inverleith players representing their country:
u17 Girls: Sophie Hinds, Katie Swanson, Grace Drummond
u17 Boys: Cameron Bosi, Jake Inglis, Alex Wilson
u15 Girls: Itske Hooftman
u15 Boys: Charlie Jack, Ollie Wilson
Also, let's not forget our very own coaching staff of Chris Duncan, Alan Wall & Kyle Wright were at the forefront of delivering here too. A great weekend for those associated with Inverleith Hockey Club. If you want to read more do visit https://www.scottish-hockey.org.uk/medals-success-for-caledonian-cougars-at-futures-cup-2019/