Purple in Europe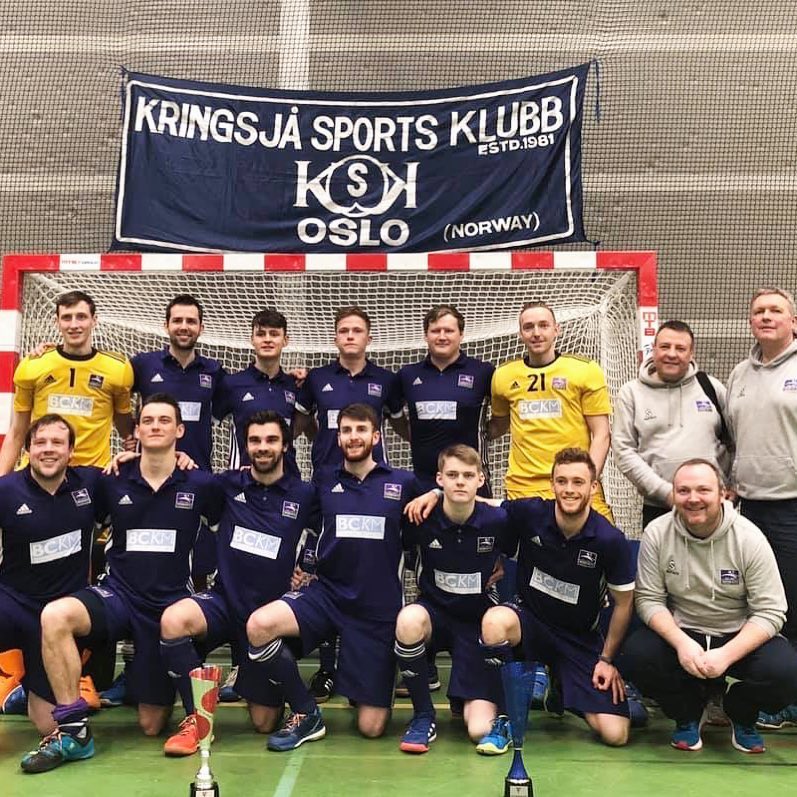 Earlier this month our Men's 1s competed in the European Hockey Federation Indoor Club Challenge 1 in Oslo. The team finished third, agonisingly close to earning Scotland a promotion, off the back of some awesome and determined performances.
Well done lads for how well you represented the club and Purple hockey on the European stage!
With added thanks to our Men's section sponsors BCKM Solicitors and Veolia Water Technologies UK for their invaluable support of the team!
The Squad:
The Tournament
DAY ONE
INVERLEITH 7-1 SK SENKVICE (SLOVAKIAN)
We got off to a beautiful start on our European adventure! A hat-trick by Aedan McCrossan was the foundation of our 7-1 victory over Slovakian side SK Senkvice in the opening pool match!
It took the guys only six minutes to open their account, Aedan the provider from open play. Stuart Hatton doubled the tally before Aedan again found the target to give Purple a three goal lead. Early in the second half Ewen Mackie added a fourth and that was quickly followed by a spot conversion from Patrick Christie.  A minute later Purple hero Aedan completed his Purple European hat-trick; a moment he has been dreaming of since being in our U10s.
In the closing minutes Lubos Misovic scored a consolation for the Slovakians, but Paul Taylor took to action and responded by making it seven from a penalty corner.
#AskAlan Our team manager Allan Dick said: "A good win with good control of the game against an experienced side – a good platform to build from."
INVERLEITH 4-6 AD LOUSADA (PORTUGAL)
Despite a dramatic battle with AD Lousada, we were unfortunately not able to build on our victory earlier in the day.
Patrick Christie gave us an early lead with a spin and shot into the bottom corner, but four goals in as many minutes propelled Lousada into a 4-1 half-time lead.
Our comeback looked in full swing in the second half with penalty corner strikes by Stephen Dick and Ewen Mackie but Lousada`s Joao Santos scuppered our chances with five minutes left, to give them a 5-3 advantage.
There were late strikes from Mackie and Teixeira, for his hat-trick, but the result went to Lousada and propelled the Portuguese to the top of the pool.
#AskAlan "A great battling performance from the boys. We can be very proud of them! We now look to take that into our next game."
DAY TWO
In the second day of indoor European Club Challenge 1 our boys got off to a flying start with an excellent win over Kringsja, and then looked to be cruising to victory against Bologna before an Italian fightback resulted in a nail-biting 5-5 draw.
INVERLEITH 6-4 KRINGSJA SPORTS KLUBB (NORWAY)
A hat-trick from Stephen Dick was the catalyst in our 6-4 victory over Norwegian champions Kringsja in the final pool match. The win propelled the team into second place in their pool, thereby qualifying Purple for the promotion group involving Bologna HC (Italy), Three Rock Rovers (Ireland) and AD Lousada (Portugal).
#AskAlan "Great win. Great performance against the hosts. Always difficult playing against a strong home support. Very pleased for the boys."
INVERLEITH 5-5 BOLOGNA (ITALY)
With four minutes to go we seemed to be cruising to a comfortable victory against Italian champions Bologna, we led 4-1 but the game finished in a 5-5 draw. What happened?
We are still asking ourselves that!
Bologna took an early lead through Nicola Missaglia, but within two minutes Aedan McCrossan had levelled. Not long after McCrossan again scored for a 2-1 lead, then Stuart Hatton and Patrick Christie added on the interval to give us a comfortable 4-1 advantage.
There was no further addition to the scoring until four minutes from time, when the Bologna avalanche came with four late strikes, before a penalty corner conversion by Stephen Dick salvaged the draw for us.
This result meant we sat third in the promotion pool, and had to now beat Irish side Three Rock Rovers in the next match to finish second and gain promotion!
#AskAlan "A game of two halves!"
DAY THREE
INVERLEITH 3-3 THREE ROCK ROVERS (IRELAND)
We needed to win against Irish side Three Rock Rovers to secure promotion, but this brave cause foundered on a last gasp equaliser.  The share of the spoils kept the Irish side in second spot in the promotion pool, leaving our team three points adrift and in the hands of the consolation of a bronze medal.
It was Purple who took the early initiative with an open play strike by Patrick Christie.  Although Jody Hosking levelled at a penalty corner, within a minute Stephen Dick had restored our advantage. Back came Three Rock again with a strike from David Kane, but just on the interval Aedan McCrossan gave Inverleith a crucial 3-2 lead.
The second half remained goalless with Inverleith on the verge of a famous victory, but events then took a cruel turn when Canning scored a belated equaliser at a penalty corner….
An agonising end for the team!
So the team finished third, agonisingly close to earning Scotland a promotion!
Well done lads for how well you represented the club and Purple hockey on the European stage! None more so than Sean Stewart and Stephen Dick who won Defender of the Tournament and Midfielder of the Tournament!
We can be very proud of the team – well done! #Heros