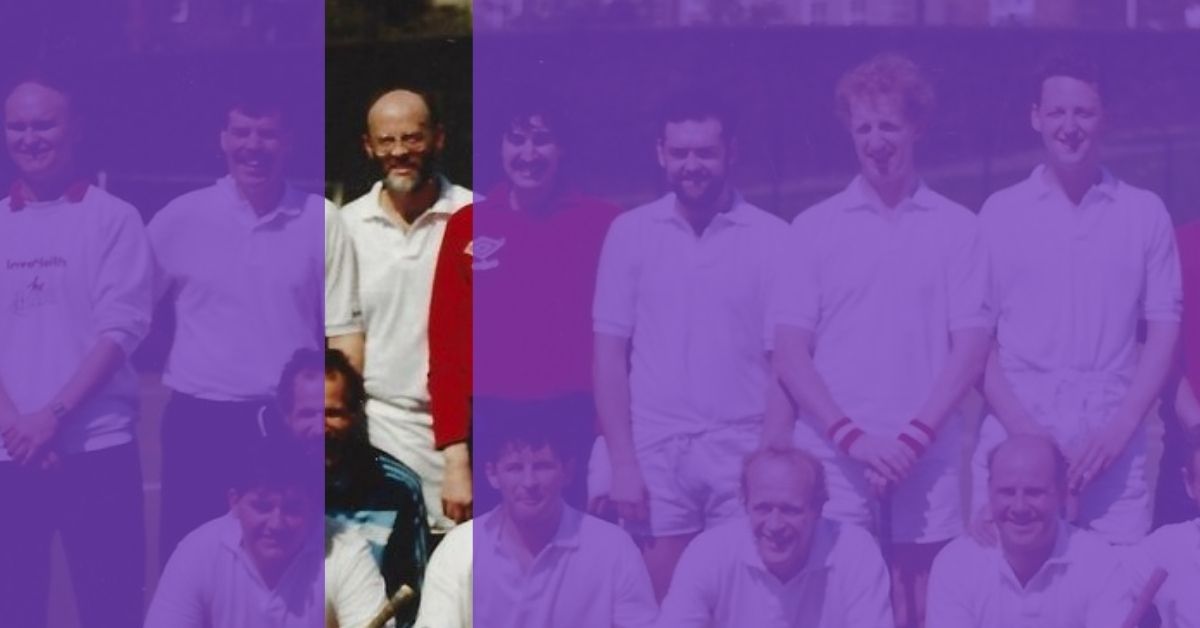 We are devastated to share the news that Les McConachie, former Club President, player and treasurer has passed away, losing his battle with a recent brain tumour diagnosis.
Les was great company, always demonstrating such amazing positivity and humour. He was also a great servant to our hockey club, putting a lot of time and effort into building the club we know today.
We would like to take this opportunity to send our best wishes to his family and many friends, and thank him for his years of service to Inverleith Hockey Club – he made such a difference to our club.
– Paul Bowyer, Inverleith Hockey Club, President.
Inverleith Hockey Club Archivist, Alan Veitch, gives our club's tribute to the great man.
Les joined Inverleith in the late 70s and played for the Nomads, A's and Juniors.  His contribution to Inverleith was immense being involved in many duties, helping to steer the Inverleith finances, a couple of years as Vice-President and then President for 5 years 1990-91 to 1994-95. He was instrumental in securing a 4 year sponsorship deal with the Bank of Scotland, which allowed Inverleith to run a very successful pre-season club tournament at Peffermill featuring clubs from around the UK, from 1989 to 1992.
One of the highlights of Les's playing career was winning the Scottish Reserve Cup in 1989 as part of the A team. Latterly Les in conjunction with Ally Philip, Martyn Rendle and a few others kick started the Men's Juniors/Development team to bring on the younger players. Inverleith were one of the first clubs to introduce this concept. It was the beginnings of Inverleith developing their own players and bringing through youngsters into adult hockey in a safe and controlled environment.
Les was always great company whether it be on the hockey pitch or the golf course. He was great supporter Inverleith golf days. Les unfortunately suffered a stroke some years ago resulting in restricted mobility. However, the physical challenges which lay ahead didn't stop Les getting back to the golf course, he just worked out the best way to play within his restrictions. He continued to demonstrate such amazing positivity and all this done with such good humour.
The funeral took place on Wednesday 21st April.
There is a donation page for Chest Heart & Stroke Scotland. This was something close to Les heart. You can donate to the JustGiving page by clicking here: https://www.justgiving.com/fundraising/mcconachie-family?utm_source=Sharethis&utm_medium=fundraising&utm_content=mcconachie-family&utm_campaign=pfp-email&utm_term=59c31fd37cf749378537fcecfb419718.