The Club was formed in 1917 by staff / workers at the North British Rubber Co., Fountainbridge (now the Scottish & Newcastle Brewery). Being in war-time reserved occupations matches were played against other local factory and hospital teams. The first ground used was Inverleith Park – hence our name, which regularly confuses our opponents.
Until the onset of World War II, in 1939, the club performed moderately well on dreadful pitches (all muddy grass) and managed to field 2 teams. A peripatetic nomadic existence found them playing at Murrayfield (now SRU HQ), Drylaw Mains (now housing) and other public parks. In 1922 a player called Thackwray featured twice for Scotland and Frank Morris, an original member, played in goal for Scotland in 14 matches between 1926-32 and was reckoned to be the best goalkeeper in the British Isles. The only matches played in those days were against England, Ireland and Wales.
Hockey virtually closed down during World War II and it was not until 1947 that Leon Veitch (Alan Veitch's father) and some other pre-war players revived the club, starting only with 10 players. By 1958, Inverleith had 4 teams and too many players. To help with fixtures, the 2nd XI was renamed the Nomads. However, this surplus of 'talent' spurred the club to assist in the formation of 2 other Edinburgh clubs: Edinburgh Civil Service (now Edinburgh Hockey Club); and Broughton School FP (now Waverley Inveresk Trinity) whose initial teams featured ex-Inverleith players.
District League hockey was officially sanctioned in the 1950's and the 1st XI, for almost fifteen years (1954-1969), dominated East District hockey with the reserve teams also winning their respective leagues on several occasions. The 1st XI at this time was in fact regarded as probably the strongest team in Scotland and at one time in the sixties fielded 9 full internationalists and 2 final trialists (Ally Philip and A Knott) in the team. Ironically, Edinburgh Civil Service then became the dominant force in Scottish Club hockey (both outdoor and indoor) for almost the next two decades, supported by recruits from Leith Academy, a strong school at the time.
Although Inverleith never won the National League title, the Scottish Cup was won in 1968 and 1975, being losing finalists in 1966, 1971 and 1973. Having won the cup in 1975, the Club represented Scotland in the European Club Championships held in Amsterdam the following year. Three of those who played in the Championships (Lee Cousins, Jim Douglas and Ally Philip) are still with the Club, the team manager, Ian McLeod only recently retired from umpiring.
Up until the late 80's, our international players were: Tommy Allan (8 caps); John MacMinn (3); Stuart MacMinn (6) John's son); Ken Dick (68 & Scotland Captain); Norman Porter (11); Denis Hay (62); Ken Hay (31) – brother of Denis; Francis Barnes (16); Tom Hay (72 – most with Edin CS); Andy Hay (35) (Tom's brother); Dougie Hay (2); Neil Buxton; and Derek Batchelor. In the 90's, Kerr Thomson (9) and Martin Pearson (2).
Denis Hay played in the 1972 Olympics and Ken Dick played for GB in 1976 and these two, plus Tom and Andy Hay, also played for Scotland indoors. In the 70's, the 1st XI were fortunate to be captained by Stewart McNulty (64 Irish caps) and later by Peter Ewles who played for Scotland while a member of Edinburgh Civil Service and, like Denis Hay, played for GB in the 1972 Olympics.
The Club also produced international umpires in Ian McLeod, Neil Buxton, Ernie Wall, Bill Denny and Martin Campbell (all FIH badged); and Peter Rendle, Alastair Page and Bill Henderson (SHA international badge). Wall and Campbell were also indoor international umpires (FIH badged). The club has also provided officials for both the SHA/SHU and the East District. Ernie Wall was awarded the OBE for services to Scottish and International Hockey in 1982.
Inverleith continue to maintain their ethic of youth development to further the club's growth and achievements. The First team continue to find success on the pitch maintaining a top 5 finish in National Division 1 for the last two seasons. We also continue to supply many of the players and coaches for Scotland's international hockey squads at all age groups. Indeed, the 2006 Commonwealth Games Men's hockey squad contained a number of current and previous Inverleith players: Stephen Dick, Adam Mackenzie, Derek Salmond, Allan Dick & Graham Moodie.
In playing terms, the 1st XI form in the 80's and 90's fluctuated between the National League Divisions, going down to Division III at one stage, but fighting back to present National 1 status. The first team have have maintained a top 5 league finish in recent seasons whilst a new crop of youngsters are brought into the highest level of the club.
The reserve teams have done reasonably well, winning the odd cup and East League competitions and a strong youth section augurs well for the future.
The U/18 Boys Team was RAF Scottish Champions from 1998 to 2002. In 2003 they were beaten finalists against Kelburne losing narrowly 1 – 2. Unfortunately during the 5 years in a row, Inverleith received limited recognition from the Hockey Authorities and to this day it is unlikely that this feat will ever be completed again.
At the start of the 05/06 season Inverleith Hockey Club merged with Forrester Ladies Hockey Club. The broad range of teams, playing at a variety of levels, enables players of all standards to enjoy hockey at our club.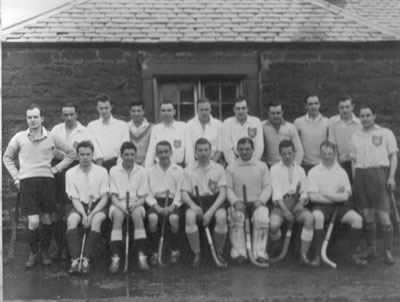 Inverleith Hockey Club Squad in 1920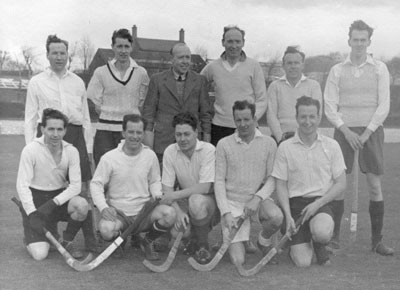 The 1947 Inverleith Hockey Squad which started with 10 players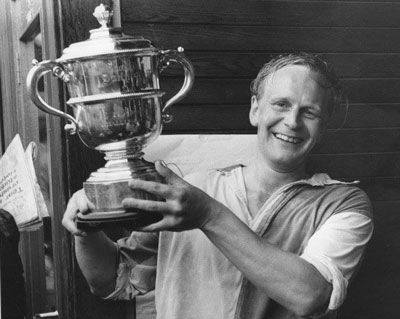 Inverleith Captain Norman Porter raising the Daily Mail Cup in 1968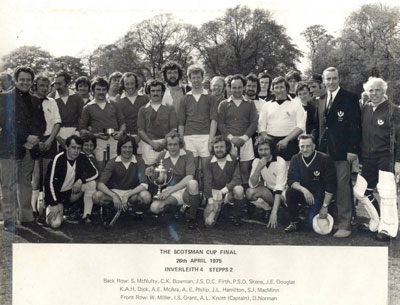 In 1975 Inverleith beat Stepps to win the Scotsman Cup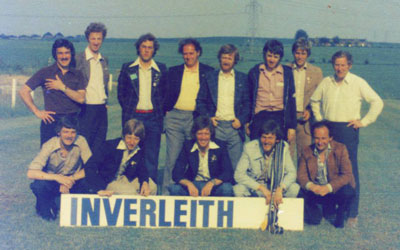 Inverleith at the 1976 European Club Championships in Amsterdam.
Squad: Ken Dick, John Firth, Ally Philip, Billy Miller, Ken Boyd, Martin Campbell, Ian Grant, Dave Norman, Lee Cousins, Patrick Skene, Stewart McMinn and Ian Macleod.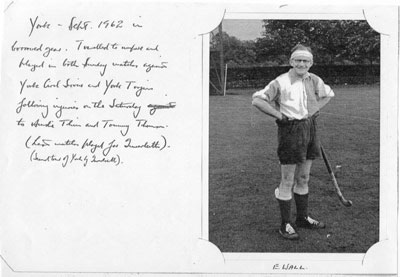 Ernie Wall in 1962 when he played last matches for Inverleith.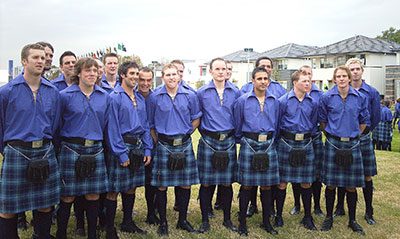 Scotland's 2006 Melbourne Commonwealth Games Squad including Inverleith players Adam MacKenzie, Stephen Dick, Allan Dick and Graeme Moodie.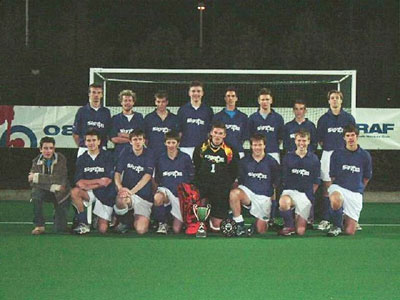 Inverleith U18 Boys crowned RAF Scottish Champions in 2002 for the fifth consecutive year.